Hand-built ceramics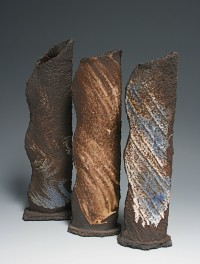 WHAT I MAKE
Works in red and black stoneware, porcelain and paperclay.
Vessel-oriented individual pieces are entirely hand-built, with sprayed glazes and brushed decoration, emphasizing surface texture. Typical forms made are large round and square plates, sculptural teabowls and jugs, large standing forms, boat-shaped vessels and decorative wall pieces.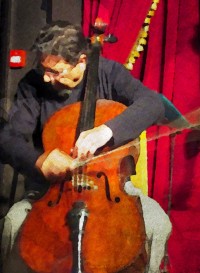 MUSIC MATTERS
Profile
"Being a musician as well as a potter, I bring into my ceramic work the same creative process which lies behind Improvisation in music: the spontaneity and intuitive 'free-ness' of the moment of creation. I like to leave impressed in clay the immediacy of this process, both in texture and in form.
The vessel, as an object that gives form to an empty space, serves as the starting point for ideas. Nature, especially images of the deep sky from astronomy, and ancient man-made artifacts transformed by the passing of time are constant sources of inspiration.
To work with clay is a privilege: the infinite possibilities of earth-water-fire-air; the whole expanding Universe in a speck of Clay… "
Has works in private and public collections in Britain, Holland, France, Spain, Denmark, Germany, Japan, New Zealand, Lebanon, Israel and Brazil.

Fellow-Member of the Craft Potters Association.